AAMS Auctions
We have sales every two months. Check our News Page or Auction Page for updates.
Send bids with membership number to:
Don Lussky, 1332 N. Webster St, Naperville, IL 60563
aamsauctions@yahoo.com

Only members of the AAMS can bid on these auctions. Please include your membership number on your bidding form.
Minimum bid is 50 cents (no less than 10% of catalog value).

Foreign Payments may be made using Paypal and sent to 

Account1@AmericanAirMailSociety.org.

 These payments must be in U.S. dollars and must include a 5% fee (minimum $1) to cover our Paypal fees.

No "buy" bids.
In case of tie bids, the first received wins.
All lots returnable within seven days if purchaser believes material isn't as described.
Important: You will need the free Adobe Reader to read the Auction Materials.
Click here for the Auction Bid Sheet as an MS Word document (.doc)
Note: For those who wish to receive the Auction/Sale Listings by mail we can provide this service per mailing of $1.00 to US or $2.00 to the rest of the world.
Scroll down to see the Current Auction
Scroll Down further to see Auction Price Results from earlier Auctions
We will keep old auctions and price results on this scroll down page. 
Auction 333
May 7, 2023 by David Crotty
---
ClickHere to view Auction List
Auction 332
February 22, 2023 by David Crotty
---
The listing of auction items is listed in the March 2023 issue of the Airpost Journal.
After the Auction is finished the Prices Realized are listed below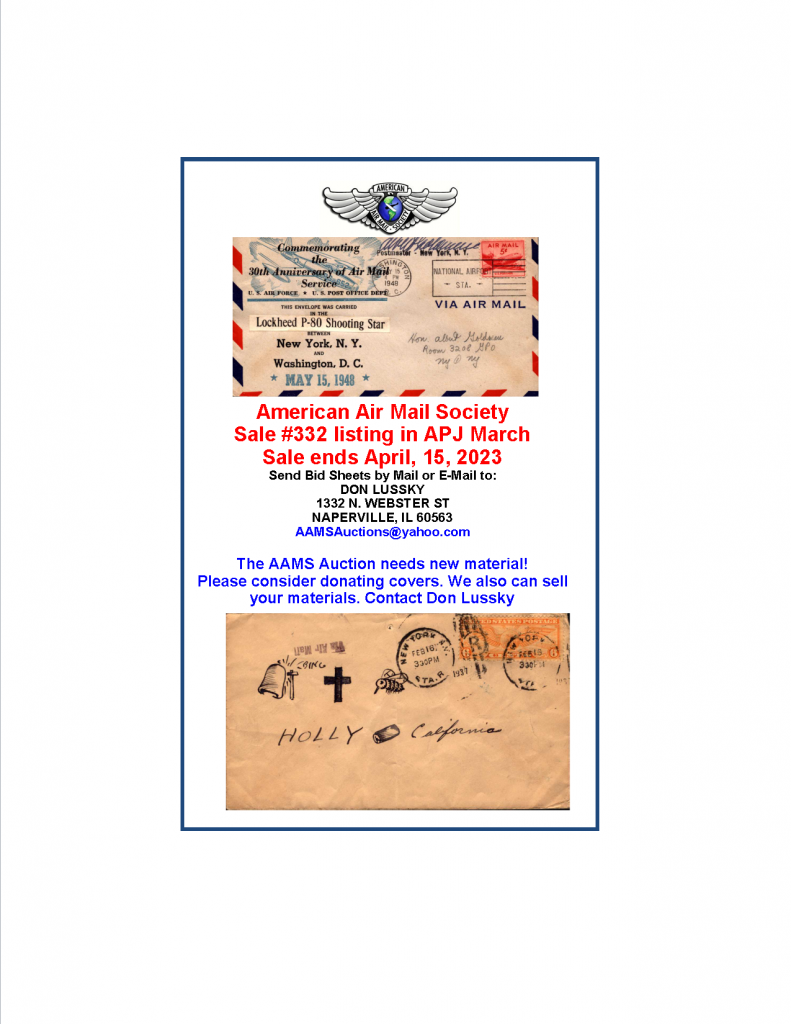 Auction 331
December 23, 2022 by David Crotty
---
Auction 331
Download the Auction 331 listing by Clicking HERE
Download the Sales results for Auction331    Click Here imagessale331
Auction 330
December 6, 2022 by David Crotty
---
Auction 330
To view the Auction 330 Advertisement click Here:    Auction 330 Advert
Toview the listing of Auction 330 lots click Here:       Auction 330 PDF
View the sales results of Auction 330 click here:     Auction 330 Sales Results
Auction 329
August 27, 2022 by David Crotty
---
Auction 329 opened Aiugust 27, 2022. The auction listing is available by cllicking HERE  Auction No. 329