Canal Zone Airmail Covers
When the Canal Zone became an unincorporated territory of the United States in 1903, the strategic value was already apparent. It was a critical real estate to be protected.  The military presence in the CZ was in place from the beginning.  Appropriately, the US Army flew the first mail flight from the Atlantic to Pacific on October 18, 1918.  That mail mostly consisted of 'Liberty Bond' promotional letters, but a number of other items were carried.  Air mail activity, internal to the Canal Zone, on special flights outside the zone and international FAM service through CZ airports, continued until the CZ mail transferred to the military postal service in 1979.
Early CZ flights were mostly military, but FAM 3, SCADTA and some one-off 'goodwill' flights began to occur in the 1920s.  In 1929 FAM 5 and 9 flights were inaugurated and in the 1930s, FAM 6, 8 and 10 were providing airmail service to Central, South and North America.  Mass flights of military planes took place in the years just prior to WWII.
In the post-war period, the development of FAM-34 operations by Braniff Airways, fully established in 1951, produced a number of collectible covers, but the later years, until 1979, added few new flights or changes in service other than the conversion to jets in the 1960s.
CZ airmail covers, through the 1930s, are a fascinating collecting area, illustrating both airline and military flight improvements and documenting historical events.  In addition to mail franked with CZ overprints or special issues, mixed US and Canal Zone franking add interest and color to many covers.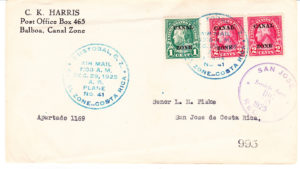 Lee Downer, AAMS
Resources:
American Air Mail Catalogue, 7th Edition, Vol 3