Airpost Journal (APJ)
Overview
The Airpost Journal has been supported and published by the AAMS since October 1930. The APJ is a generously illustrated magazine covering a wide range of aerophilately. AAMS news appears regularly to keep members apprised of the organization. Feature articles, written by leading scholars in each field, are published each month, along with regular columns of continuing interest. Through APJ advertisements, collectors can find reliable dealers who can be most helpful in adding new stamps or covers to their collections and in keeping them in touch with current market trends.
Copies of articles from the APJ can be obtained for a fee from the American Philatelic Research Library located in Bellefonte, PA (http://stamps.org). Other philatelic libraries also carry the APJ.
The  scanning project is complete with scanned APJ issues placed below. Thanks to dedicated society volunteers.
Notes: the once missing issue 26 has been found and is available.
Also there are two different issues numbered 361.
Article Indexes for APJ
Archived Issues of the APJ
Only members can see the last two years of the Journal on this page
(Click the very small down arrow to view volumes 1 to 89)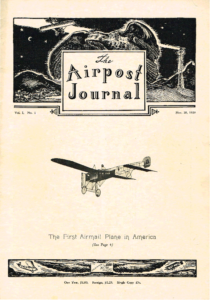 Digitization of the full run of Airpost Journal is complete thanks to dedicated members.