Exhibits
Aerophilatelic exhibits are the best way for advanced collectors to show off their best material and tell a story that highlights why they find the specialty so interesting.
Exhibits Currently Available

Commercial Zeppelin Mail
Haiti Early Air Mail
Pushing the Envelope-Rocket Mail
24 Cent Jenny
Lindberg Flights the Mail
Commercial Zeppelin Mail
COMMERCIAL ZEPPELIN MAIL 1928-1937 – Dickson Preston
The Graf Zeppelin and Hindenburg flew scheduled transatlantic airmail for five years during which heavier-than-air craft could not yet fly across the Atlantic on a regular basis. The extensive display of commercial mail seen in this exhibit shows the contribution these airships made to an important chapter of airmail postal history.
Click on these links to view exhibit or download PDF files.
   Chapter 1 1928-1937 Commercial Zeppelin Mail

   Chapter 2 1932 Graf Zeppelin Mail
 
  Chapter 3 1933 Graf Zeppelin Mail 
 
  Chapter 4 1934 Graf Zeppelin Mail
 
  Chapter 5 1935 Graf Zeppelin Mail                                        
 
  Chapter 6 1936 Zeppelin Mail                                                                               
 
  Chapter 7 1936 Hindenburg to South America                                                   
 
  Chapter 8 1936 Hindenburg to North America
 
  Chapter 9 End of Zeppelin Airmail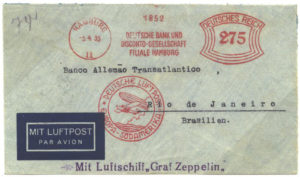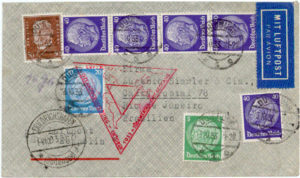 Haiti Early Air Mail
Haiti's Earliest Air Mail, 1921-1925 – Peter C. Jeannopoulos (AAMS #12138)
Exhibit documents the establishment of regularly scheduled air mail service in Haiti. It is composed of pioneer air nail flown before May 2, 1925 and regularly scheduled air mail flown in the following eight months.
Highest Award: Gold, American Air Mail Society Gold &  Grand Award
Click here to download  HaitiAir Mail 1 Frame Exhibit 
Pushing the Envelope – David S. Ball
This Astrophilately exhibit provides an overview of pioneer rocketmail organized by experimenter
. It begins with the world's first rocketmail flight in 1928  by Friedrich Schmiedl. Key amateur rocket pioneers and their philatelic cargo are shown. The exhibit concludes with America's first official missile mail in 1959.
Click Here to download Pushing the Envelope Rocket Mail Exhibit
24 Cent "Jenny" – A.D. Jones, Joe Kirker, James O'Bannon, Pat Walters
To commemorate the 100 year anniversary of the first United States Airmail Stamp, this presentation includes the production history of the 24ct "Jenny", (Scott C3/C3a) showing printing varieties, early flight cancellations, and various related period material including photos. It presents most of the material shown in the 5 frame exhibit but continues to include the next two United States Airmail Stamps, the 16ct and 6ct "Jenny" stamps. The initial 24 cent rate (C3) began on May 15, 1918. The rate was reduced to 16 cents (C2) on July 15, 1918 and again reduced to 6 cents (C1) on December 1, 1918.
Click here to download the Jenny 6 Frame Exhibit
Lindbergh Flies the Mail – David S. Ball
From 1926 until 1931 Charles Lindbergh carried mail by air. When he began, envelopes carried in aircraft were a novelty. Following his transatlantic flight in 1927 interest in aviation exploded. Passenger service blossomed, commercial routes expanded, and Lindbergh himself become the world's first celebrity.
 Click here for the Lindbergh 5 frames exhibit as a PDF