Zeppelin Mail
Collecting Zeppelin Posts
Cheryl R. Ganz, PhD RDP FRPSL
Zeppelins and airships carried mail throughout the twentieth century although many collectors and historians consider the 1920s and 30s to be the "golden age" of zeppelin international travel. Collecting mail flown on zeppelins and airships (such as advertising and military blimps) can evolve in many directions. After finding your focus and studying the existing literature, you will enter the romantic era of zeppelin transport and create a collection unique in scope. Collections can be organized by specific airship or zeppelin, by country, by era, by flight, by stamp issues, by cachets, or by origin and destination. Many collectors add photographs, postcards, timetables, and other kinds of ephemera and artifacts to enhance their collection.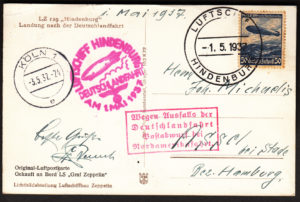 You should obtain a good zeppelin catalog to assist you. Remember that catalog prices are only guidelines; prices might be higher or lower. Condition is a key factor, and you should seek undamaged envelopes and stamps with clear postal markings. You should purchase the Sieger Zeppelinpost Katalog. Although in German, the format is easy to follow, and most dealers and auctioneers use its catalog number system. The Michel Zeppelin Specialized Catalogue is another helpful catalog for zeppelin mail. On eBay, check prices of completed sales to better understand the current market. Finally, a word of caution: some rare zeppelin posts have been faked to defraud collectors, so be sure to consult an expert if spending thousands of dollars on a single example.
Where can you find zeppelin and airship mail? Check advertisers in the American Air Mail Society's Airpost Journal. Some dealers sell at stamp shows, by mail, and through online auctions. Several auction houses have specialized zeppelin sales. Zeppelin collectors often have a meeting at the American Philatelic Society's annual August Stamp Show, and they sometimes meet at other stamp shows and conventions. Collectors often write articles and exhibit at stamp shows to share their discoveries. The many facets of zeppelin mail offer opportunity for original research and new finds not listed in the catalogs. Enjoy the adventure!
Useful links
www.airships.net 
www.blimpinfo.com 
http://facesofthehindenburg.blogspot.com 
www.nlhs.com  
postalmuseum.si.edu/fireandice/index.html 
www.stamps.org