MEXICO AEROPHILATELY
Collecting Mexico Air Mail
Stephen Reinhard, FRPSL, AHF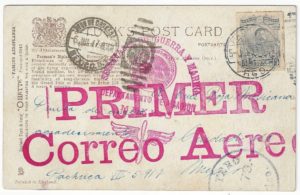 Mexico air mail collecting involves a number of different areas of our air mail hobby. There are pioneer flights that go as far back as 1917, contract routes very similar to CAM routes in the U.S. but much more involved, a Government Route that operated in the late 1920s, FAM 5 and 8 routes that had a number of stops in Mexico, North Atlantic Catapult mail that originated or ended its airmail journey in Mexico, Zeppelin Mail originating in Mexico and taken onto the LZ-127 or LZ-129  at Lakehurst or in Brazil, as well as Zeppelin mail arriving at Lakehurst or in Brazil and flown on heavier-than-air flights to Mexico. In addition to all of this are many types of special flights including record breaking flights, military flights, commemorative flights, etc., each of which carried mail.
Mexico issued a whole range of airmail stamps beginning as early as 1922. Some were issued especially for use on mail flown on particular flights.  These are sought after by collectors, both in mint condition and on flown covers. Proofs and varieties add to the fun of collecting the air mail stamps of Mexico.
Due to various wars and insurrections, and the tropical climate, much of the information about early flights, up to World War II, has been lost. There are wonderful opportunities for research, and many discoveries yet to be made. A new collector can form a significant collection of flown first flight covers at a very reasonable price. So, if you are thinking of a new area of airmail to collect, think Mexico.
References:
Sanabria World Airmail Catalogue, 1966 edition, pages 781-802.
American Air Mail Catalogue, Sixth Edition, Vol. 3, 2004, pp. 31-79 (FAM 5).
American Air Mail Catalogue, Sixth Edition, Vol. 3, 2004, pp. 110-121 (FAM 8).
American Air Mail Catalogue, Sixth Edition, Vol. 1, 1998, pp. 479-516 (Mexico First Flight Covers).
The Standard Airpost Catalogue, 1933 Edition,
Mexico and Foreign Air Mail Routes sections.
Historia Postal y Catálogo del Aéreo en México, Lic. Víctor A. Sienra A., self-published, 2008.