Lighter than Air Via Balloon
David Hollenbaugh
Collecting balloon stamps and balloon mail is an exciting, interesting, and colorful area of topical specialization for both the beginner and the advanced collector, and is suitable for nearly every pocketbook. A good place to start a balloon stamp collection is with the many 1983 issues commemorating the Montgolfier brothers and the 200th anniversary of manned flight. Over 50 countries issued balloon stamps or souvenir sheets that year. Although the frequency of new balloon issues has since diminished, there is a more historically diverse selection of earlier worldwide issues, many dating from the thirties, which commemorate contemporary scientific or exploratory flights, or other notable ballooning events. They are a bit pricier than the more recent issues. Balloon aerogrammes, though fewer in number than either stamps or covers, are also collectible.
Balloon flown covers are very popular and are becoming more numerous each year. Some covers are prepared for transoceanic and other long distance balloon flights, usually in limited quantities. These are invariably offered at a premium in order to help defray the cost of the flight, but make great additions to any collection.
Souvenir covers issued for a specific ballooning event, such as the annual U.S. National Hot Air Balloon Championships and the Kodak Albuquerque International Balloon Fiesta, are inexpensive, readily available, and come in endless varieties. Look for covers with a ballooning cachet, a special pictorial cancellation, a balloon stamp (the recent 19¢ U.S. definitive issue for example), the name of a participating balloon, and the pilot's signature. All of these elements on one cover amount to a collecting "grand slam."
Balloon "monte" materials comprise a specialized field within the ballooning topic. Ballon Montes are pieces of mail flown from Paris by gas balloon between September 1870 and February 1871 during the Franco Prussian War. The name, short for Par Ballon Monte or "by manned balloon," reflects the notation required on each postal item flown. Balloon montes are relatively expensive and prices can vary according to specific balloon and markings, but having one of these letters, cards, or journals in your collection is like owning a piece of both ballooning and philatelic history.
Visit the concession areas at major ballooning events and ballooning museums to find flown mail. You can visit stamp dealers and read the stamp papers for articles and ads. Or chase a balloon and ask the pilot! To build a collection of balloon stamps, use a world-wide stamp catalogue. For balloon mail a variety of catalogues are used, including the out-of-print Balloon Posts World Catalog 1783-1968 by Boesman and the AAMS publication Balloon Posts of the Siege of Paris 1870-1871 by Chantrier.

One of several balloon stamps issued in the United States.
Via Zeppelin
Bob Wilcsek
A popular way to start a Zeppelin collection is to collect the different flight cachets used for the Zeppelin flights. For example, most of the Graf Zeppelin flights had a unique cachet and an attractive collection can be assembled. There is just the right balance of material to make the search exciting without becoming hopeless or excessively expensive. From the pioneer period of the German Zeppelins early in the century to the special event covers of the American airships Akron and Macon in the 1930s, there is plenty of material to collect in a variety of price categories.
You might choose to focus on a particular Zeppelin or airship or a particular area to collect. For example, dispatch and destination covers from a single country, like the United States, with or without the expensive Zeppelin stamp issues; or Germany, Brazil, or another of the many countries that sent mail by Zeppelin. Not all areas can be made inexpensive, but some can. You might also collect geographical areas such as the Holy Land, British Empire, or other favorites. This can get expensive, especially for non-treaty states, the nations that had no direct mail contract for Zeppelin mail service. However, there are many collectors who are not intimidated by price or who have been seduced by the thrill of the hunt.
The thrill of the hunt is exactly what is involved in another type of Zeppelin collecting – one flight. You could spend a lifetime collecting only the Graf Zeppelin's 1929 Round-the-World flight, the 1930 South America flight, the Hindenburg's first North American flight, or one of the many other specialty flights. This can seem hopeless at times, as many pieces are very rare, but occasionally new discoveries of unlisted items are made, and it is very exciting.
For any of the Zeppelin collecting choices, a good catalogue is necessary. The American Air Mail Catalogue is an excellent resource with good pricing information. A more detailed listing can be found in the German Sieger Zeppelinpost Katalog or the Michel Zeppelin- und Flugpost-Spezial-Katalog. Many reference books and journal articles exist for specialized areas; and study groups, such as the AAMS Zeppelin Collectors Club, continue to provide new information.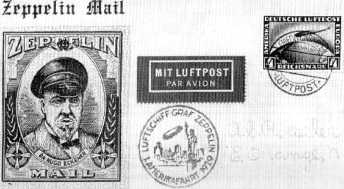 Cover flown on the Graf Zeppelin flight to Lakehurst, New Jersey in 1929 with a German Zeppelin stamp, an official rubber stamp cachet, and a privately printed cachet by the airmail dealer A.C. Roessler.

Heavier than Air Via Glider
Simine Short
Most airmail collectors are vaguely aware of glider mail. However, many are not familiar with gliders in general, so this aerophilatelic collecting area is not as widely known or collected as mail flown by balloon, airship, or airplane. Prior to World War II, the development of aviation as a means of carrying mail inspired numerous experiments searching for economical methods to cover distance and to reach remote locales. Political conditions and limited resources, especially in central Europe in the 1920s, led to experiments with gliders which might use nature's air currents to support an aircraft without an engine. This led to the development of the Sky Train, using one "locomotive" airplane and multiple unpowered glider "cars." Considerable sky train development in the 1930s was officially sponsored. This development reached its peak in military usage by a number of countries during World War II.
The contribution of motorless aviation is interesting and challenging. Talking with the people who made the events happen in the 1920s and 1930s makes one highly aware that history was made in a very painstaking fashion. Flown covers from this time period are proof of those pioneering achievements. They are historical and significant as souvenirs carried on flights which contributed to the development of aviation.
In general, flown or souvenir glider mail is not expensive and additional research can still be done. Discoveries can still be made.
There are many ways to collect glider mail: as officially or unofficially flown airmail; as part of the development of aviation; on stamps and first day covers; or as a subject. There is something for every collecting taste and pocket book. Are you ready to get started? United States glider flights are listed in the American Air Mail Catalogue and worldwide coverage is in Glider Mail, an Aerophilatelic Handbook, or check The Airpost Journal and some of its back issues. Have fun!
Warren E. Eaton, one of the founders of the Soaring Society of America, carried about 16 pounds of mail in his Franklin PS2 glider from Harris Hill into the valley which is now Chemung County Airport. Due to some misunderstandings, the post office could not process the mail until the words "Official U.S." in the flight cachet were blackened out. Mail was then postmarked in Elmira, New York on July 10, 1933.
Via CAMs
Robert Outlaw
A collection of Contract Air Mail (CAM) covers records the expansion of the United States Air Mail Service, the development of heavier-than-air craft, and the practical application of airplanes to the transportation of mail – as new airmail service between cities, or to new cities, was opened until deregulation on December 1, 1978. Many collect specific contract routes, specific cities and regions, specific airlines, and time eras. Pictorial cachet and cancel varieties add interest to the covers.
In 1926 the United States Post Office Department contracted with private operators for mail transport by private enterprise. The first contracts were let to the Ford Motor Company and designated as CAM Routes 6 and 7, on which service was inaugurated February 15, 1926. The term "contract" was used because original routes were awarded after competitive bidding and the service was created by an Act of Congress. There was an interruption of service in February 1933 when President Roosevelt ordered the Post Office to cancel contracts and U.S. Army planes flew the mail while new bids were sought and routes rearranged.
The best source for information is the American Air Mail Catalogue. The illustrated listing includes detailed information on routes, dates, airlines, pilots, quantities carried, varieties, additions and extensions, and values. This is still a reasonably priced area of collecting that provides exciting challenges as you shuffle through shoeboxes of covers in dealers' stocks or trade with fellow collectors.
CAM 2 card flown by Col. Lindbergh on February 21, 1928, from Chicago to St. Louis, franked with the Spirit of St. Louis airplane stamp. Mail connecting from Milwaukee was flown on a special Sunday flight on route 9.
Via FAMs
Robert Spooner
Foreign Air Mail (FAM) routes are those which were assigned to United States airlines over which mail was carried from United States points to foreign countries, except for certain operations involving Canada and Mexico. As aircraft could fly farther, faster or higher, airmail could be flown to countries further and further away from United States borders.
One example is the first United States FAM Route 1 from Key West to Havana, Cuba, about 100 miles over the horizon in the Caribbean. In 1920 it was a reasonable goal. Aircraft could cover such distances, but operators had to learn how to navigate out of sight of land on a regular schedule and with diversions around large tropical thunder storms or by flying through other poor weather conditions. A contractor was ready to accept the challenge and provided converted World War I flying boats to carry mail for the United States Post Office Department, as well as passengers. The first flight was on November 1, 1920. A special cachet was provided in Havana on the reverse of the envelopes. Five hundred pounds of regular Havana mail received preferential airmail service rather than going through a normal Florida port. Only one business letter has been described in the philatelic literature to date. Many of these covers are waiting to be found!
FAM history is alive with interesting events that affected airmail service in good as well as detrimental ways, providing challenges to the collector. Postmarks help to show changes in routing when weather or revolutions prevented landing at intended destinations. Pilot signatures show who carried the mail. Even Lindbergh carried FAM mail in the Caribbean, although his autograph on this mail is quite scarce. The American Air Mail Catalogue provides FAM information on routes, pilots, cachets, inaugural flights, changes in service, quantity of mail carried, and representative prices. There are helpful resources available for anyone who wants to get involved in collecting Foreign Air Mails.
The only business letter identified in the philatelic literature from the first flight of FAM 1, identified by the circular cachet on the back. Many of these covers are waiting to be found from the 500 pounds of carried mail.
Recovered/Crash Mail
Philip R. McCarty
One of the very fascinating and challenging areas of aerophilately is the collecting of interrupted flight covers, more commonly called "crash covers." These covers are not created covers but rather covers that are the result of a mishap or crash, which is one of the reasons that they are relatively scarce. Each has its own story, from the pioneer pilot and the Jenny to our modern day jets. In the early years of airmail service there were many accidents due to inexperienced pilots, frail planes, faulty equipment, and weather.
Weather was the major factor in a large number of crashes as in the crash of Maurice Graham, who left Los Angeles on January 10, 1930, for Salt Lake City. The plane was finally found June 24, 1930, near Cedar City, Utah, only after the snow melted. One monthlater the pilot's body was found, with the mail intact, twenty miles away from the crash site.
Condition of recovered mail varies from the badly burned, watersoaked, and stained to no damage whatsoever. If there is no appreciable damage to the mail, it is forwarded without any markings. Damaged covers receive a rubber-stamped cachet to explain the reason for the damage or delay. Frequently a mimeographed note or letter of explanation accompanies the delivery, usually within a government "penalty" envelope when the original envelope is badly damaged.
There are many ways that crash covers are collected; the most common is by the location of the crash, such as country, state, or territory. Some collectors seek interrupted flight covers by the type of aircraft or by certain airlines. Whatever way you choose, the challenge begins.
Damaged covers often receive a rubber-stamped cachet explaining the reason for the damage or delay, as in this piece of recovered mail from Warren, Ohio, in 1930.
Via Rocket
Ray Broms
During the pioneer rocket period in the 1930s, rocketeers tried to perfect various forms of rockets while demonstrating the value of using rockets for the regular, speedy delivery of mail. Early rocket designs were creative, including the first three-stage rocket designed by an amateur. Experiments met with varying success as rocketeers tried to show military potential or target remote mountain villages. Eventually, however, these attempts got little further than the enthusiasm of the inventor-rocketeers, but the record of their valiant efforts has made rocket post collecting a romantic and adventurous area of specialization.
The areas of space and rocket collecting are closely related. While we usually associate space covers with "outer space," almost all rocket covers did not go as far as outer space. Rocket covers before the space era are sought by astrophilatelists to show the stages of how man reached for the stratosphere and beyond.
Rocket covers can be categorized by the rocketeer, such as Schmidl, Roberti, or Stewart; by the organization, such as the Society of Applied Rocketry or the Rocket Research Institute; by a commemorative event; or by the country of origin. Because the rocket era spans the early 1930s to the present, there are many avenues of research open. Newspapers, town histories, and oral interviews add to the existing philatelic resources.
Rocket covers are well within the reach of the average collector. While many covers are scarce, this is still a relatively new area of collecting and many items are available. Collectors may participate individually or in an organized group of philatelists or rocketeers. You can collect worldwide with limited foreign language skills as the essential information is in the dated postmark and cachet. The Ellington-Zwisler Rocket Mail Catalog lists mail alphabetically by country and is well illustrated. One learns about rocketry and its history while collecting and/or creating flown documents.
Most rocket covers have rocket labels, official or unofficial, in addition to the standard postage. These labels are highly collectible, and many collections and exhibits trace the complete history and manufacture of rocket labels with essays, proofs, errors, multiples, and tete-beche examples. Often rocket mail is signed by the rocketeer or a related participant. Seeking autographs on rocket posts can add to the fun of the hunt.

A rocket flimsy flown by a rocket club in the United Kingdom in 1984 and signed by the rocketeer John Stewart.