Amelia Earhart Files and Photos Download

Collecting Amelia Earhart Flown Covers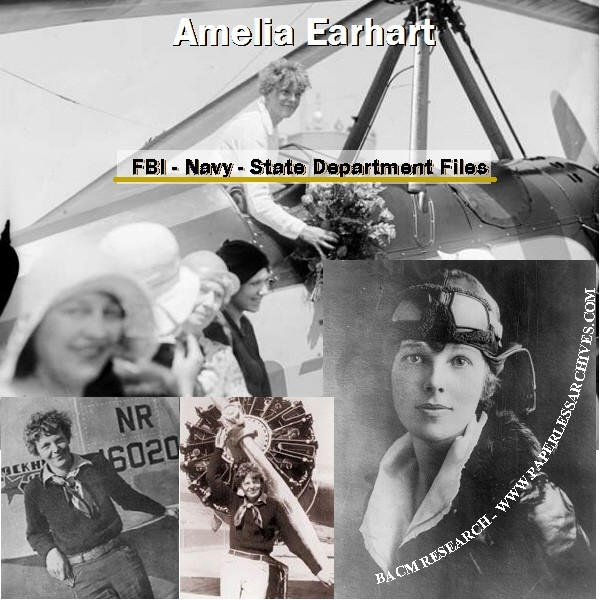 Amelia Earhart FBI/Navy/State Dept. Files and other Material
620 pages of Amelia Earhart documents. Download for $9.95.
This collection includes:
Elanor Roosevelt-Earhart, Amelia Correspondences, 1933-1936
22 pages of correspondences, including letters addressing media reports that Earhart complained about how she was treated during a White House visit.
Letter from Amelia Earhart to President Roosevelt Regarding her World Flight, 11/10/1936
In this letter, Amelia Earhart writes to President Franklin D. Roosevelt regarding her world flight. Earhart asks Roosevelt for help coordinating with the Navy to refuel her plane in air over Midway Island
FBI Files
56 pages of files copied from FBI Headquarters in Washington, D.C., covering Amelia Earhart. Amelia Earhart was an aviatrix who disappeared July 1937 in the Pacific Ocean while on a highly publicized world flight attempt. The FBI never investigated her disappearance. The records generally consist of correspondence from individuals speculating about her fate. Accounts of solicitations of funds from bureau personnel for the Amelia Earhart Foundation. In 1990, the International Group for Historic Aircraft Recovery submitted a navigator's bookcase to the FBI Laboratory for examination. This item was suspected of having been part of Ms. Earhart's lost aircraft. Various technical analyses were conducted, and nothing was found which would disqualify the artifact as having come from the Earhart aircraft.
Radio Log of Amelia Earhart's Last Communications
These 5 pages are the original radio log of Amelia Earhart's last communications with the US Coast Guard cutter Itasca. Also included are notes and edits to the log by the radioman Leo G. Bellarts. The last communication occurred at 8:43 am on July 2. 1937, as indicated on the log.
Message containing The Japanese Government's Offer of Assistance to Help Find Amelia Earhart, July 20, 1937
A telegram sent from Tokyo to the Japanese Embassy in Washington D.C., offering Japanese assistance in the search for Earhart.
Navy – Report of Earhart Search by U.S. Navy and U.S. Coast Guard 2-18 July 1937
A 47-page US Navy report on the search for Amelia Earhart from July 2nd to 18th, 1937.
Navy – Report of Earhart Search U.S.S. Lexington July 1937
49 pages of reports from the U.S.S. Lexington concerning its search for Earhart.
State Department Files
125 pages of State Department documents covering diplomatic aspects of the search which followed her disappearance. Documents cover an investigation by the Japanese government of allegations that Earhart was imprisoned on Saipan in 1937.
Photographs 1897-1915
20 photographs of Earhart from 1897 to 1915, shoeing her from an infant to 18 years old, and the Earhart family home.
Amelia Earhart's "Activities of women," Scrapbook 1924-1926
From 1924 to 1926, Earhart pasted news clipping into this scrapbook of grounding breaking achievements of other women during this time. The book contains 12 pages of clippings selected and mounted by Earhart.
From: Amelia Mary Earhart Papers. Amelia Earhart, 1897-1937. 1924-1926, n.d. A-129, folder 17. Schlesinger Library, Radcliffe Institute, Harvard University, Cambridge, Mass.
More Documents and Photos included.
Collecting Amelia Earhart
By David S. Ball
Telling the story of Amelia Earhart philatelically is a challenge. Unlike Lindbergh who carried perhaps a million envelopes, Earhart was not principally an airmail pilot. With the exception of the Detroit to Cleveland inaugural flight of CAM 27, postal documentation of her flights is sparse.
AAMS 7th Ed Vol. 3 lists eight flights on which she carried covers. This began with her 1928 Friendship Transatlantic Flight and ended with the 1937 Round the World Flight. Since she carried 50 or less on each flight and often autographed them, the envelopes are difficult to find and costly.
While the Catalogue only lists carried covers, an exhibitor might want to collect related philatelic material. The National Aeronautic Association, for example, issued printed welcome cards when the "Friendship" fliers visited Boston shortly after their flight. The Fordham Aerophilatelic Society issued a cachet to commemorate Earhart's solo flight across the Atlantic in 1932. A sizable number of envelopes canceled on ships chronicled the search for her while on her final flight. Subsequent pilots (Pellegreno and Finch) also documented their journeys. First Day Covers of the Earhart stamp as well as airfield openings and air races can also be part of the story.
PREVIOUS EDITIONS
7th Ed Vol. 3 2017 pgs 427-434
USEFUL LINKS
https://sellfy.com/p/CpQb/
https://postalmuseum.si.edu/collections/object-spotlight/earhart-mail.html
SECTION LEAD
Thomas A. Russell